Presidential Lecture Series
The Presidential Lecture Series engages Purdue students and the broader community with inspiring ideas, courageous leadership and models of civic engagement and civil discourse. This series is an extension of Purdue's commitment to being a place where open discussion and a diverse representation of thought are not only welcomed but encouraged.
American Democracy: Where Do We Go From Here?

YouTube Live Event – Feb. 24, 6-7 p.m. EST
President Mitch Daniels will host U.S. Speaker of the House Paul Ryan and former Sen. Heidi Heitkamp for a virtual discussion on civil discourse and the state of our nation's democracy. The event is conceived and co-sponsored by the Political Discourse Club, a non-partisan student organization that provides a platform for students to have civil political discussions.
Watch the Event
Sen. Heidi Heitkamp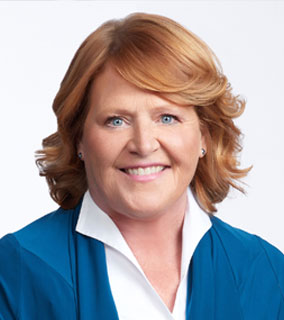 Heitkamp was a U.S. senator from North Dakota from 2013-19. She had been the state's attorney general from 1992 to 2000 and tax commissioner before that. In addition to Senate committee assignments in agriculture and banking, she sat on the Committee on Homeland Security and Governmental Affairs. Heitkamp worked with former Sen. Joe Donnelly of Indiana in 2019 to launch One Country Project, an organization helping Democrats connect with rural voters. Heitkamp is also a visiting Pritzker Fellow at the University of Chicago Institute of Politics and a contributor to both ABC News and CNBC.
U.S. Speaker of the House Paul Ryan
Ryan, as a representative from Wisconsin from 1999-2019, chaired two major House committees — the Ways and Means Committee and the Budget Committee — and served as the 54th speaker of the House from 2015-19. He was also the 2012 Republican vice presidential nominee, running alongside Mitt Romney. Today, Ryan is on the board of directors of Fox Corp. He's also a guest lecturer in political science and economics at the University of Notre Dame. In 2019, he founded the American Idea Foundation to connect local community organizations to researchers and policymakers.
Subscribe to our mailing list